Marie Schwab, viola & Soizic Lebrat, cello & Anouck Genthon, violin & Patricia Bosshard, violin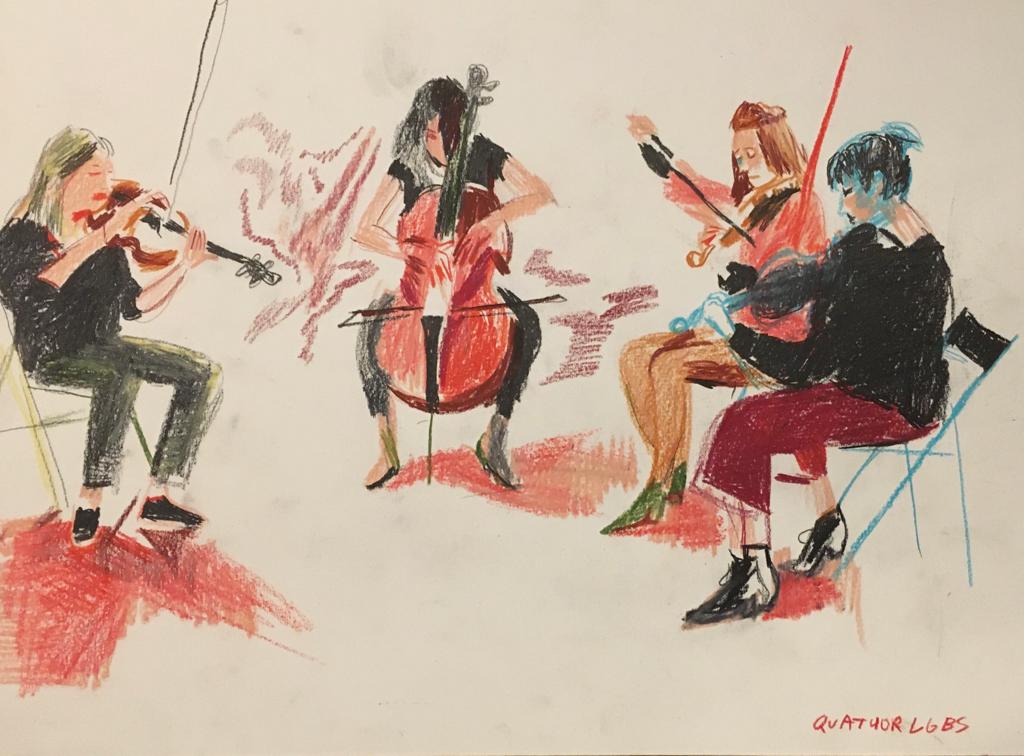 Formed in 2017, this french-swiss string quartet LGBS consisting of Patricia Bosshard, Soizic Lebrat, Anouck Genthon and Marie Schwab is nourished by differents wishes : improve in four-voices gathered in the instant of listening and favor meetings and plural writings by inviting others artists to share the space-time of their musical research and sound creations. The four-musicians focuse on the gesture as a specific-quartet catalytic playing, and on his deployment in the space. They develop a writing which anchors in desire of ensemble sound made by the convergence and the overlap of complementary sonorities. That brings a sound material which is continually spread out, living and moving within its own transformation. Enriched by the diversity and the transversality of their differents experiences (ONCEIM, NEC, IMO, CoÔ, Le Un, Le Grand Eustache), these four-musicians create together an unusual and singular sound synergy.
Formé en 2017, ce quatuor à cordes franco-suisse, composé de Patricia Bosshard, Soizic Lebrat, Anouck Genthon et Marie Schwab se nourrit de plusieurs envies : improviser à quatre voix réunies dans l'instant de l'écoute, et favoriser la rencontre et l'écriture plurielle en invitant d'autres artistes à partager l'espace-temps de leurs recherches et créations musicales et sonores. Ces quatre musiciennes portent une attention particulière au geste comme catalyseur de jeu spécifique au quatuor, et à son déploiement dans l'espace. Elles développent une écriture qui s'ancre dans une volonté de son d'ensemble fait de la convergence et de la superposition de sonorités complémentaires. En découle une matière sonore qui se déploie continuellement, vivante et mouvante à l'intérieur même de sa propre transformation. Riches de la diversité et de la transversalité de leurs différentes expériences (ONCEIM, NEC, IMO, CoÔ, Le Un, Le Grand Eustache) ces quatre musiciennes créent ensemble une synergie sonore peu commune et toute singulière.